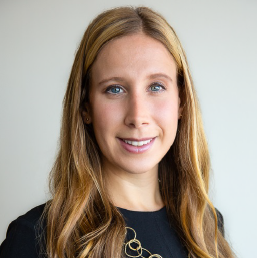 There's this weird disconnect and misperception that you need to know how to calculate a bond yield or follow the markets really closely, read financial journals regularly to be meaningfully involved in your financial life…and the reality is that you don't.
Earlier this year the global financial services firm UBS released some fascinating research. It explores how women in long-term relationships divide up responsibility for financial decisions. Almost half of women say they defer on money matters to their spouse or partner. But would they do that if they knew that 8 in 10 women, at some point in their lives, due to life circumstances, will be left to manage their own finances?
Carey Shuffman is the Head of the Women's Strategic Client Segment at UBS, a role she's held since 2017. She is responsible for the development and implementation of UBS's strategy to address the unique financial needs of women. In this role, Carey and her team are focused on financial education and research, engagement and creative content, with the goal of helping women navigate their financial lives. Carey also works closely with Field Leadership and Financial Advisors to support and promote these efforts across the US. As a subject matter expert on the topic of women and financial well-being, Carey travels the country speaking at seminars and events and also frequently conducts virtual engagements. She has been a regular contributor to print and television media, including Barron's, Her Money, BOLD TV, Kiplinger and more. She also speaks at large-scale conferences and corporate organizations around the topic of women's financial empowerment, and has spoken to audiences at Google, the National Football League (NFL), The Female Quotient and more.
Carey has been with UBS for almost a decade and previously held a number of strategic roles across the firm, having worked within Sales Strategy and Wealth Management Transformation, where she focused on building out the firm's holistic wealth management and financial planning services. Carey first joined UBS as an analyst in the Graduate Talent Program (GTP), and she is also a past recipient of the UBS Global Employee Volunteer Award for her work in the local community. Carey received her BA in Economics from the University of Pennsylvania and holds her FINRA Series 7 and 66 licenses.
Resources mentioned in this episode: UBS Own Your Worth 2021 Report, UBS Women and Finances, UBS Wealth Way
---